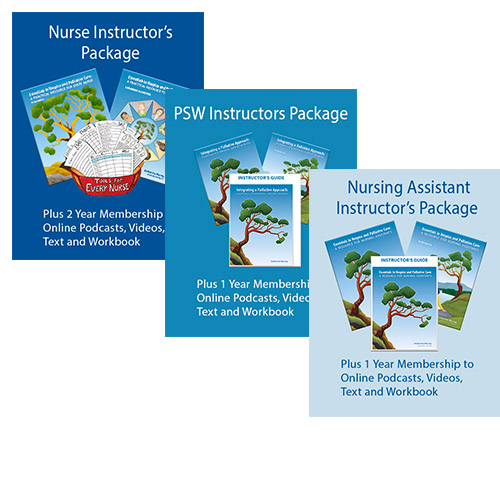 Instructor's Packages provide t

he resources and roadmaps for teaching hospice palliative care.

Instructor's Packages include:
Print and digital  text and workbook
Podcast and video access
PLUS
Instructor's Guide (PSW and NA resources)
PowerPoint presentations
Instructor's Guide for PSW/NA Educators

The Instructor's Guides are the cornerstone of the Instructor's Package. They provide complete Lesson Plans that dovetail hospice and palliative care content into core curriculum, ensuring your students learn the essentials of hospice and palliative care.
Lesson Plans – Ready, set, GO!
Lesson Plans identify readings, videos, podcasts and PowerPoint presentations for teaching each topic. Following the Lesson Plans can decrease teaching prep and ensure a comprehensive approach to education! The Lesson Plans include:
Learning Outcomes and Standards for Practice* – Presented in student friendly language. Sharing the Learning Outcomes and identifying when standards are met can help build student confidence in their exam prep.
Materials and Supplies – This list is a life-saver when preparing for teaching!
Suggested Class Preparation – Suggested readings, exercises and media resources for students and Instructors to use for preparing for class, and to use in class. An excellent resource for planning regular and flipped classroom activities.
Media Resources List – In addition to the PowerPoint™ titles, Instructors can select podcasts and videos to use in-class, as homework, for discussion topics or for learning activities. The combinations are endless and infinitely customizable to meet the student's needs.
PowerPoint™ Presentations
Full sets of PowerPoint™ presentations for teaching the entire hospice and palliative care curriculum. Presentations align with the texts, using the colours and rich illustrations to enhance learning.  PowerPoints™ also include key concepts for discussion, and instructions for additional learning activities. Developed specifically to support Instructors, the presentations are instantly ready-to-use, or can be  customized to your location or students' needs.
Kath's message to PSW Instructors