If you received an email that tells you an Instructor's membership has been created for you, follow these instructions:
If you already had an account with Life and Death Matters:
Use your email address and password to login to your membership as follows:
Go to the Login/My Account menu item at the top right of the website.
Login to the website with your username and password.
Your digital resources will be displayed on your account page (B,C,D,E).
Click on each item to open the link to the resource.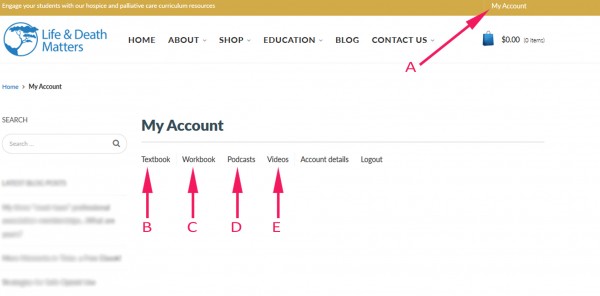 If you did not have a pre-existing account with Life and Death Matters:
Your email address has been used to create your account.
However, you will need to create a password for yourself.
The steps to create a password are:
Select the "Forgot my password" link at this URL, https://www.lifeanddeathmatters.ca/my-account/
Check for an email from Life and Death Matters containing a password reset link, and click the link
Create a new password
The new password must be at least twelve characters long. To make it stronger, use upper and lower case letters, numbers, and symbols such as ! " ? $ % ^ &