Whether you're looking for a developed hospice and palliative care curriculum, for modules to intersperse through your existing Personal Support Worker or Health Care Assistant program, for hospice volunteer training resources, or for continuing education in hospice and palliative care, Integrating a Palliative Approach: Essentials for Personal Support Workers program is for you.
Kath Murray's message for Educators:
"I am very aware that many front-line caregivers will receive their education through courses and classes that you teach! I wanted to develop teaching resources that would be helpful for you. My goal was to provide you with an Instructors Guide that links the National Education Standards pertaining to hospice, palliative, end-of-life care, and the Ontario Provincial Vocational Learning Outcomes. To provide lesson plans and make full use of the text book, workbook, along with the videos, podcast library and PowerPoint teaching presentations (with lecture notes). The Instructors Guide ties all of these resources together, providing lesson plans, references, and ideas for further study."
This textbook was written specifically for personal support workers (PSWs), healthcare assistants (HCAs), nurse's aides (NAs), community support workers (CSWs) and all caregivers who fulfill these roles. The writing will engage you with its warmth and heart, and provide you with the necessary resources and tools to respond to the needs of the dying and their families.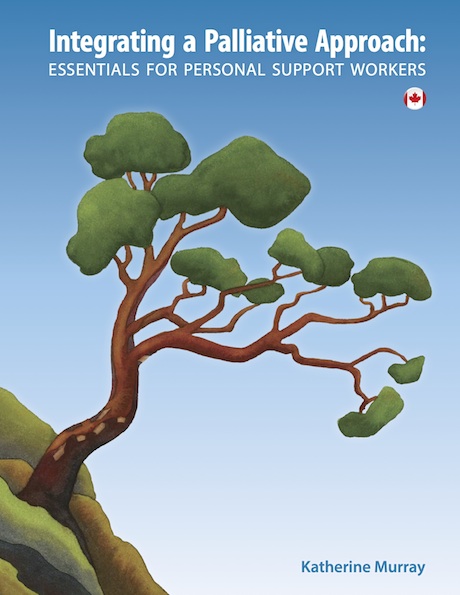 Filled with practical strategies, stories of care-giving, and real-life scenarios, Integrating a Palliative Approach will increase your confidence and competence, in providing compassionate care for the dying. In reading this textbook, you will learn the importance of:
Integrating a palliative approach into the care of people with any life-threatening disease, early in the disease process, across all care settings
Reflecting and maintaining therapeutic boundaries
Communicating, including how to avoid roadblocks and open the doors to serious conversations
You will also learn about:
Common symptoms, and tools to help you gather information and provide comfort measures
Psycho-social needs, and how to create a nurturing place and respond in difficult situations
Last days and hours, and strategies to use when caring for the dying person and family
Self-care and compassion fatigue, and ways to care for yourself
The health care team, and strategies for advocating and communicating
See the companion Workbook
All-Inclusive Package Prices
PSW Essentials Package: includes printed text and workbook, online text and workbook, podcasts and videos.
PSW Essentials Online Package: includes online text, online workbook, podcasts and videos
Additional discount for bulk purchases
Companion Resources
Boost your students' learning with these podcasts on the principles and practices of hospice palliative care. Open access to our extensive podcast library means students can listen and learn at school, at home or when they travel – as many times as they want! Podcast topics include standard assessment tools, enhancing comfort, psycho-social care, grief, dementia and bereavement.
Experience the warm educational style of teaching in these instructional videos to enhance classroom learning with videos from leaders in hospice palliative care. The videos expand a student's understanding of hospice palliative care concepts and issues, help prepare students for projects and study guide activities, and develop a deeper understanding of the experiences of dying.