What are Care Planning Cookies?
We are pleased to introduce you to the Life and Death Matters Care Planning Cookies – edible cookies with a message inside, each one intended to stimulate conversations about living well and dying well.
English, French, Spanish and Chinese versions of 2 different message sets now available.
You can choose your language preference, message set preference, and quantity, after clicking the purchase button below.
Did you know: Life is terminal! All of us, 100%, will die. According to research, most people say it is important to talk about death and prepare for death, but most of us have not talked with our families or our physicians about what is important to us, nor have we  assigned a Substitute Decision Maker.
Conversations about living well and dying well can be challenging, but they are important, so we have developed edible Care Planning Cookies to help you get the conversations started.

If your family, friends and loved ones do not know your wishes, what quality of life means to you, what medical procedures you think you may or may not want –  they will experience increased stress at an already stressful time and they will likely experience disagreement between family members. When people are left to make decisions for you, without any previous direction from you, they may make decisions that they would make for themselves, or they may choose more aggressive treatment options because they do not feel comfortable allowing natural death. This burden can be lessened when you talk with them about  what is important to you, what living well means to you, and medical interventions you may or may not want.
We are a small community hospital with a limited budget for education, so we need to be creative. We wanted to do something great for Advance Care Planning Day on April 16th and I thought of using the Life and Death Matters Care Planning Cookies. On that day, every patient in the hospital will receive a Care Planning Cookie on their meal tray, along with information from the Speak Up Campaign for National Advance Care Planning Day. In the hospital cafeteria, all staff, visitors, and families will also receive a cookie and materials from the Speak Up campaign with their meal or beverage. We look forward to stimulating the discussion!
– Ann Marie, Renfrew Victoria Hospital

Read the article that Inside Ottawa Valley published about Renfrew Victoria hospital and the Care Planning Cookies
Care Planning Cookies can stimulate discussion and encourage you to talk to your family and friends about ideas such as:
what matters to you, what you do every day that gives your life meaning – walking your dog, socializing with friends, watching your favourite show, going to sports games, working
who you talk with about important events
who would be willing to honour your wishes and speak of your behalf, if you were unable
the importance of learning about different medical  procedures that might be offered to you in the future
The Care Planning cookies are a hit! We are currently facilitating a palliative care class for PSWs and give each participant two cookies during the "Advance Care Planning" section. We ask them to open one cookie and read their question to the class (and possibly answer it, if comfortable/willing). We then challenge them to give the other cookie to a family member, friend or colleague as a 'lighter' way to start dialoguing about advance care planning. It's a fun part of the day, and we all had a good laugh when a participant asked, "The message isn't going to say that I will die soon, will it?"
– Morgan L., Community Educator
We invite you to prepare. We invite you to talk about living well and dying well… so you can have real peace of mind, because both Life and Death Matter!
I wanted you to know that I just shared the Care Planning Cookies with my advance care planning leadership team – and they love them!!!!! It prompted such interesting and important conversations in such a non-threatening way & we all agreed that we want to integrate their use in our ACP Public Education sessions.
– Nadine V., Champlain Hospice Palliative Care Program

Ideas for Using Care Planning Cookies
Planning, or hosting, a party? Unwrap the cookies, lay on a pretty serving dish and pass them around with dessert. Start the conversation rolling!
These cookies could be very difficult in some groups. We would only suggest providing them at a party when you are part of the planning process.
Pass 'em Around
As you're sitting around after dinner, you can explain to your friends that you've come across Care Planning Cookies. Tell them that these are not your average 'fortune' cookies, and that they have messages inside to stimulate conversations about living well and dying well. Invite people to participate or not, and allow space for both.
You might find that one person breaks open their Care Planning Cookies and reads the message out loud, followed by a group discussion, then the next person opens their cookie followed by discussion. Or, you might ask only the person who opened the particular cookie to answer their question themselves, and then open to discussion at the end.
Can You Guess?
Play an after dinner game of Can You Guess? You will need a pen and a piece of paper for each person, and the Care Planning Cookies.  Have people split into groups of 2.  Each pair breaks open one of the cookies, reads the message inside (out loud) and have a few moments to write down their answers, then have the partners guess at what they think the other person's answer was. Finally, they read their answers out loud and discuss the outcome.
Potluck Surprise (remember to think about the purpose of the potluck and the group you are gathering with!)
Bring the cookies along to a family potluck. When people open the cookies they will have some interesting conversation with the person they are sitting with! Remind them that these are NOT fortune cookies, but rather are Care Planning Cookies and are intended to help people prepare for the future.
Leave a plate of cookies at the front desk, or leave a jar of cookies in the candy jar. "Help yourself"
Bring a bag to the next staff party potluck
Leave a plate of cookies in the lunchroom- create some interesting lunchtime chatter.
In a healthcare setting, offer a cookie to each person after a tour of the facility.
Hospitals can add a cookie to each patients meal tray and/or make them available in the cafeteria (great idea for ACP day!)
Host an Advance Care Planning Appy Evening. Pass the cookies around to stimulate discussion and then have a speaker to a short talk about Advance Care Planning.
Advance Care Planning Resources
It's about conversations. It's about decisions.
It's how we care for each other.
Advance care planning means having discussions with family and friends, especially your Substitute Decision Maker – the person who will speak for you when you cannot. It may also include writing down your wishes, and may even involve talking with healthcare providers and financial and legal professionals.
You may never need your advance care plan – but if you do, you'll be glad that it's there and that you have had these conversations, to make sure that your voice is heard when you cannot speak for yourself.

For information and materials/forms specific to British Columbia legislation including sample Advance Care Plans, resources and workshops available in some local communities please visit: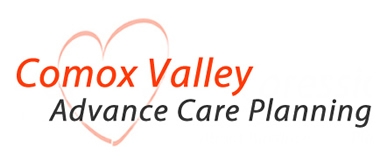 The Conversation Project is dedicated to helping people talk about their wishes for end-of-life care.
It's time to transform our culture so we shift from not talking about dying to talking about it. It's time to share the way we want to live at the end of our lives. And it's time to communicate about the kind of care we want and don't want for ourselves.
We believe that the place for this to begin is at the kitchen table—not in the intensive care unit—with the people we love, before it's too late.

Minnesota hopes to inspire and support many community-based conversations regarding end-of-life care planning. We urge Minnesotans seeking to start such conversations in their family, faith, cultural or community group to use this "toolkit" of video, text and web-links to support these conversations.

Five Wishes lets your family and doctors know:
Who you want to make health care decisions for you when you can't make them.
The kind of medical treatment you want or don't want.
How comfortable you want to be.
How you want people to treat you.
What you want your loved ones to know.
Five Wishes is changing the way America talks about and plans for care at the end of life. Five Wishes has become America's most popular living will because it is written in everyday language and helps start and structure important conversations about care in times of serious illness.